Today, let's talk about interfacing — the unsung hero among the sewing supplies. Here is what it does:
1️. It reinforces the edges of your fabric pieces, protecting them from distortion as you sew and wear the garment.
2️. It strengthens the fabric, helping your finished piece hold its shape and fit beautifully.
3️. It prevents your fabric from stretching out or fraying at the edges.
The 4 most popular variants:
Adhesive edge tape in photo 1 – it's a narrow, adhesive band, that:
Defends the front edges, pockets, the fold of lapels, slits from stretching;

Strengthens armhole sections and necklines;
For stretchy materials (jersey) use adhesive edge tape on the bias which, due to the nature of the cut, goes well on the armhole and neckline sections (photo 2).
Adhesive web interfacing – a non-woven, adhesive material in the form of a canvas or strips of different widths (photo 3). It melts when heated and sticks to the layer of fabric. It's used for:
▪️Fixing the bottom hem, but it's better to secure them manually. It can weigh down the seam allowances on thinner fabrics;
▪️Making invisible seams and different adhesive connections.
▪️Securing the seam allowance on eco-leather garments.
Non-woven interfacing – a non-woven adhesive material for strengthening the сut pieces, which should not be used because it's flimsy, strongly warps, and quickly wears out.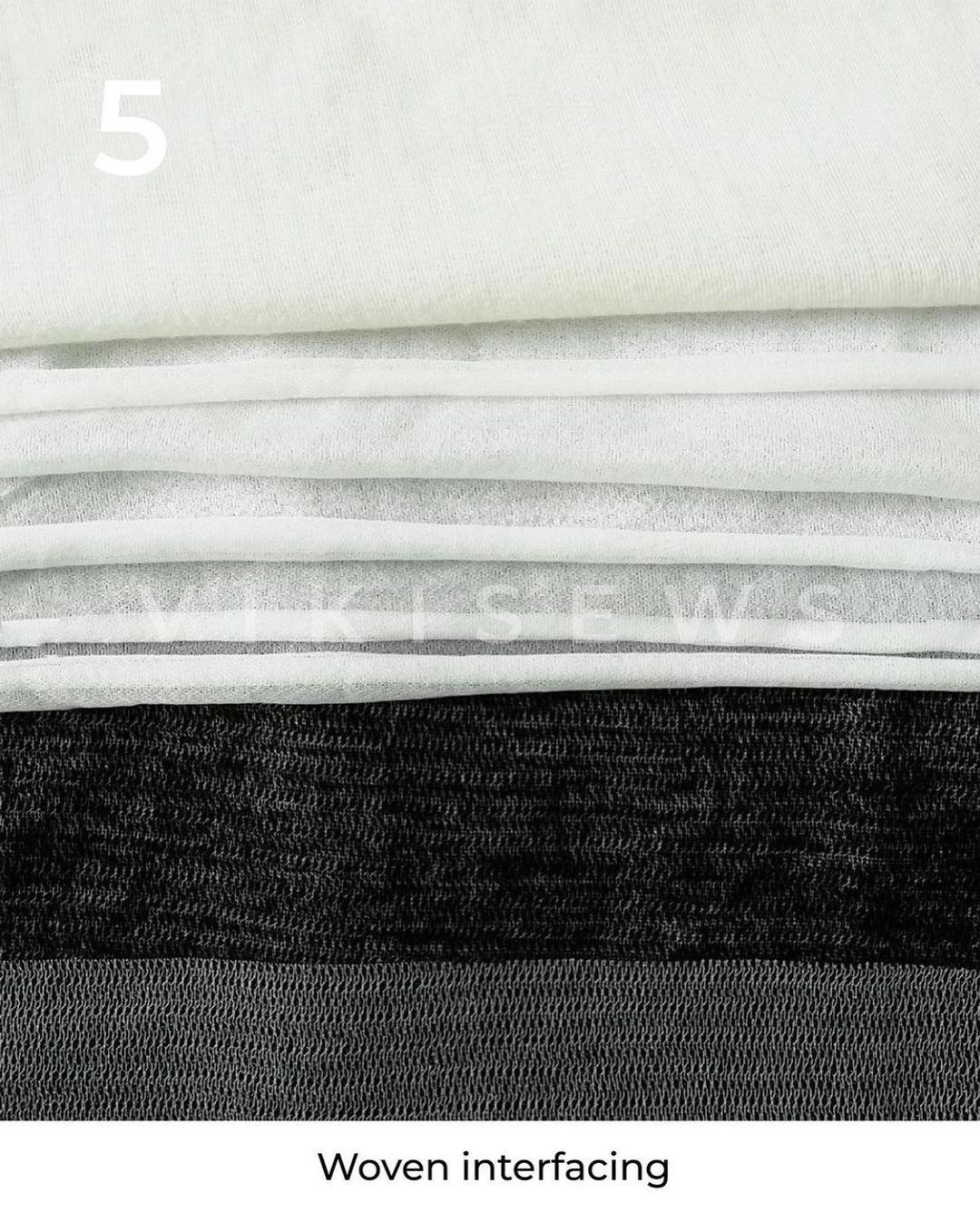 Woven interfacing – an adhesive material on a woven or knit warp.
The recommended weight will be as follows:
For thin, soft fabrics (silk, viscose, cotton, lightweight knit fabrics, stretchy lycra fabrics, etc.), choose knit interfacing with up to 45 g/m2 weight.

For medium weight fabrics (taffeta, twill, knits, fine wool, polyester, etc.), stretchy knit interfacing, often with no nap, 30-50 g/m2, will be the right choice.

For heavyweight fabrics (wool, flannel, velour, denim fabric, fabrics for coats, suits, trousers, jackets, etc.), you should choose knit interfacing, often with nap, 50-80 g/m2.
More useful posts about sewing helpers: