The comparison of Alexia, Nola, Gloria, and Uni mini dresses is worth being added to your saved posts, as the new collection has more short dress designs to offer, and it may be not easy to choose one.
Ease allowance
All the dresses are close-fitting at the bust. Nola's trapeze silhouette starts to widen at the waist only, and Uni's waistline ease is the largest, which makes the skirt really full. The most voluminous sleeves are those of Uni and Alexia.
Silhouette
Alexia has an accentuated waist, Nola is A-line shaped, Gloria is close-fitting, and Uni is semi-fitted. All of the dresses except Nola have a waist seam, meaning they can be easily transformed into a blouse or have a skirt redesigned according to your taste.
Sleeves
All of the dresses have short voluminous sleeves gathered at the sleeve cap and hem. The difference lies in the shape and design details. Thus, Alexia's sleeve is half raglan, while Gloria's sleeves are finished with close-fitting, long, shirred cuffs. Uni has shortened shoulder seams and puff, set-in sleeves with tight gathers around the cap.
Neckline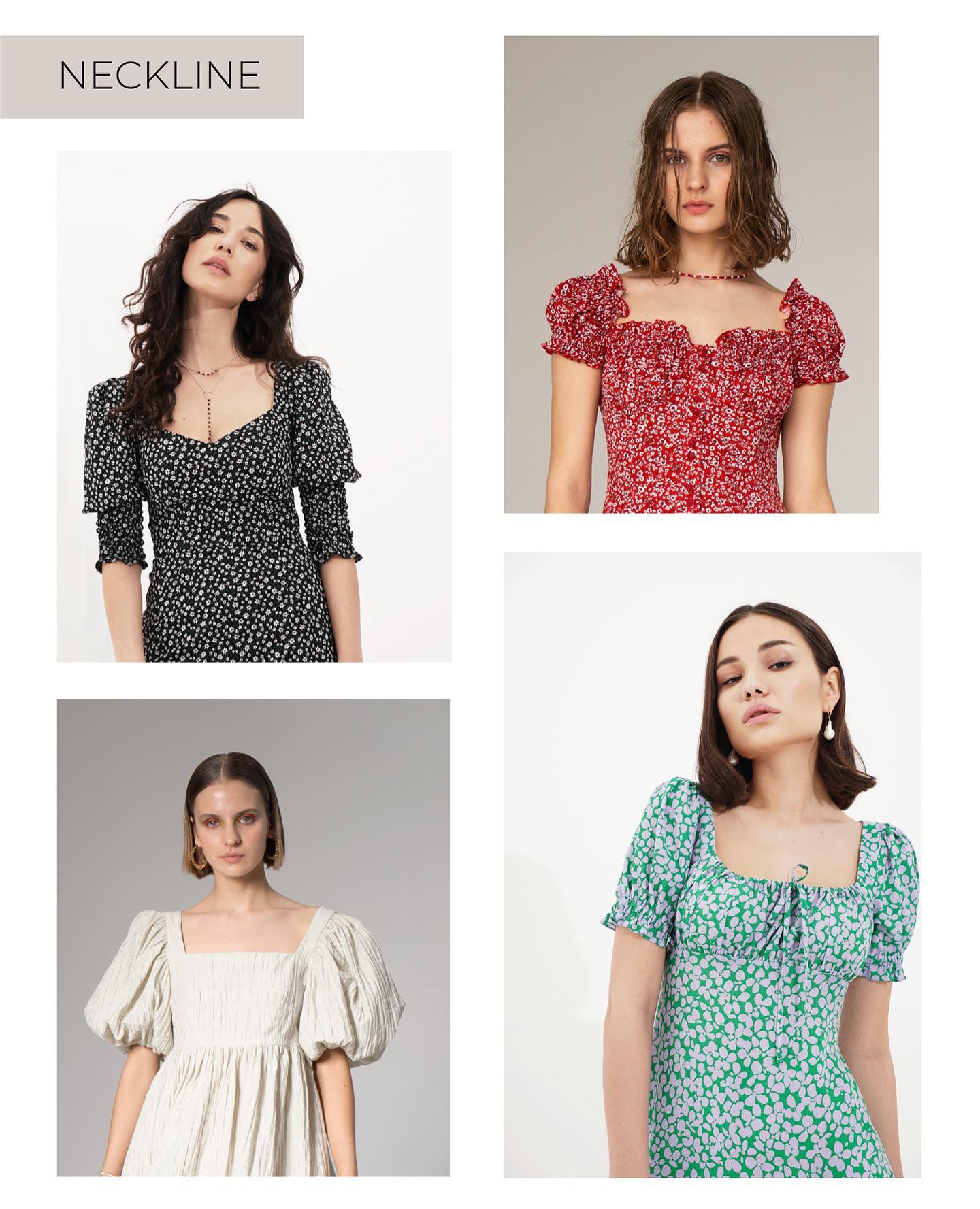 All of the dresses are designed for the summer season, so they have deep necklines of various shapes, like square or heart. Uni features a U-shaped neckline ending at the waistline. But don't worry, the pieces are secured in place safely. We've taken care of it.
Closure
Alexia fastens with buttons and buttonholes on the center front plackets. Nola has no closure. Gloria features an invisible zipper in the center back seam.
Design features
Nola's front has a yoke finished with a channel for ties on the top. Uni features an empire waist and wide ties on the back that form a bow with long tails at the bust level.
Size range
Uni and Alexia are available in sizes EUR 34–52, Nola and Gloria in sizes EUR 34–46.
Have you decided, which of these is your favorite one? We have much more ready-to-made patterns of mini dresses. Check the "Dresses" section to see them.
Here are some useful articles for you:
How to work with a slippery fabric
How to tailor the lining to a dress of a light fabric
Cup size in vikisews patterns and pattern adjustment for large bust and narrow back