In our reviews, we usually focus on women's fashion trends. But let's not forget about men as well! Especially now when fashion becomes more and more daring and brave when it comes to menswear – it's difficult to take your eyes off some looks during fashion shows even if you have nothing to do with menswear. So what are the menswear trends of this and the upcoming year? We've divided our list into two parts: the list is led by the trends that are safe and easy to adopt, while the most adventurous ideas are saved for last. ;) Keep scrolling!
Designers have introduced numerous colorful looks for men. Think pastels and bold monochromes. For instance, Rick Owens's Spring 2023 menswear collection – one of the most remarkable so far – introduced many pink looks. Try experimenting with color, it's so much fun!
On top of that, the iconic Vichy check pattern is making a comeback. As well as the Y2K staple – the total denim trend aka the Canadian tuxedo. These apply to the accessories as well. How do you like that?
Cargo pants have been everywhere lately. If you'd like to try this trend out, pay attention to the pants' length and volume. The cargos don't have to be dragging on the floor, but a slight fold of fabric on top of the shoes would look great.
If we're talking dress pants, those should fit loosely and have a full length. Leg-hugging cropped trousers are a definite anti-trend.
Designers suggest men implement shorter versions of shorts into their wardrobes. But that doesn't mean the good old loose-fitting, knee-length shorts have fallen out of trend. The most comfortable length is the trendiest, so be it.
Bombers are gaining momentum. Especially those preppy, varsity bomber jackets – but you can also choose a sport-chic one to exercise this trend.
Tank top shirts are trending in both men's and women's fashion. Not many will appreciate the low-low neckline but the regular and familiar option will work, too. Remember Bruce Willis's iconic white tank in "Die Hard"?
The oversized below-knee trenches and coats will stay with us long. And with them, will stay the layered look trend. For example, the tee + shirt + jacket combo. Designers made jackets a must for casual looks. Just like in women's fashion, men's jackets should be structured and loose-fitting – no slim-fit items for now.
Designers propose choosing voluminous bags and fun, unusual shoes. Good news for those who love wearing ties – now they appear in casual and relaxed looks. Try tucking a long tie into your pants to leave everyone a bit flabbergasted.
And what are the trends for the brave and fancy? Here are some ideas for those who like wearing something kooky and eye-catching.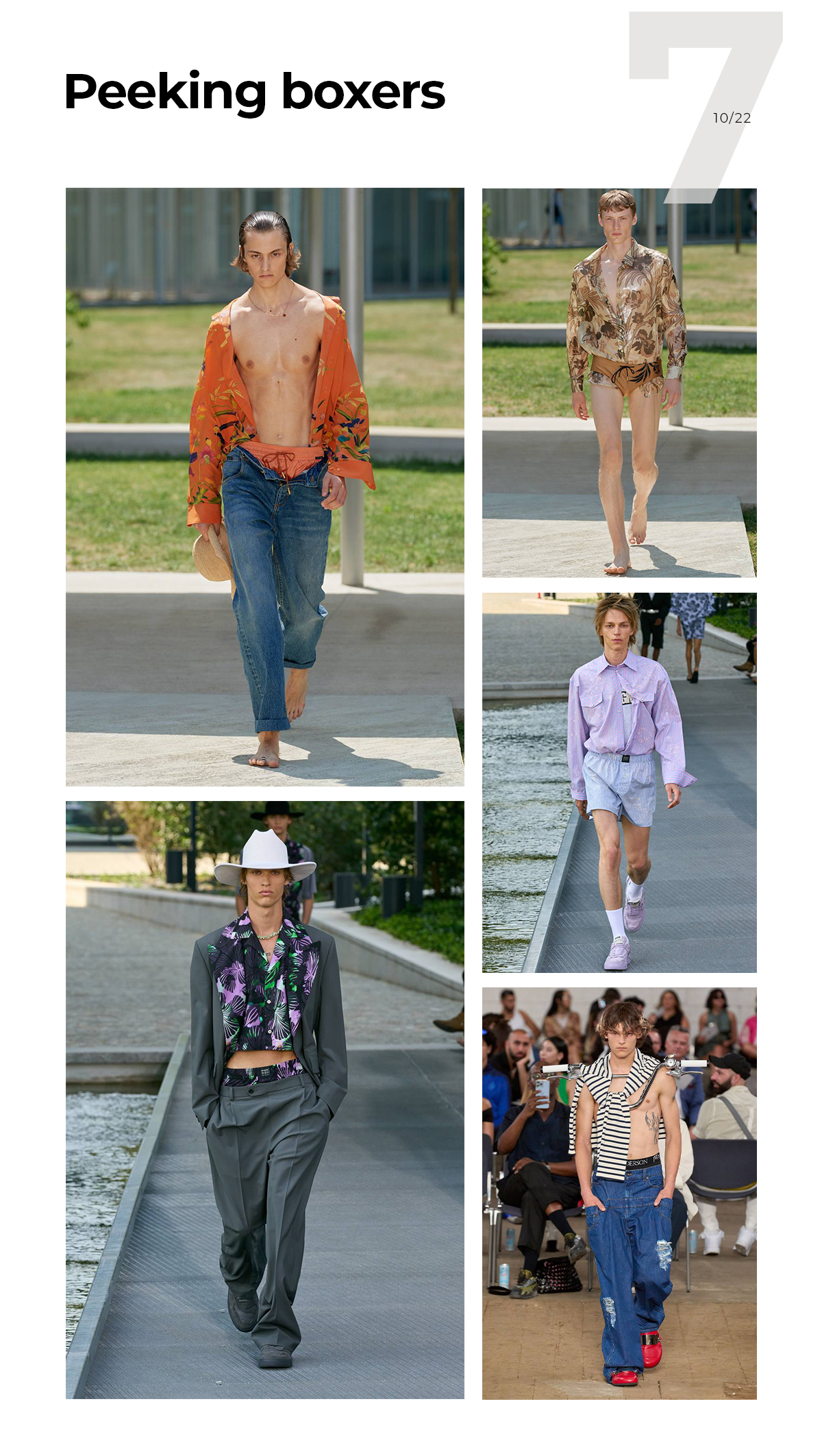 Yes, we've seen quite some underwear at fashion shows this year. Sometimes it's just boxers peeking out of low-rise jeans, reminding us of the 90s – sounds sort of wearable. But designers also introduced underwear-like extra mini shorts for men… courage is what it takes to wear those. However, you may want to experiment with the trend and create a fun beach outfit.
The naked torso is a trend that came from the 80s – the decade of the bodybuilder – when bulging muscles were seen as the perfect male physique. Seems like personal fitness today is also mandatory if one wants to sport this trend.
The 70s aesthetics mixed up with a spirit of freedom and fun inspired designers to make models paint their toenails bright and wear accessories on their toes and ankles. No wonder we spotted these tricks at Etro's fashion show. Not many men will dare to exercise this trend on a day-to-day basis, but Damiano David from the Italian rock band Måneskin probably would.
What do you think? Did you get inspired? If you're a little baffled, remember that fashion today is not fashionable at all. Everything's allowed, wear what you like. Just opt for modern-looking and fun items, and you're all set. And by the way, we have a decent collection of men's patterns that any man would like. Be sure to check it out in the "Men's patterns" section.
Read more about fashion trends on Vikisews blog:
How to make your outfit more flattering