Red carpets are a fun excuse to wind down for 5-10 minutes, look at celebrity photos, and study their gowns. Basically, it's a win-win activity that includes recreation and fashion training. Let's explore the main fashion takeaways from this year's Venice Film Festival which ended last week. Keep scrolling!
Many stars chose dresses that bared their shoulders and collarbones. This is a chic trick for both casual and evening looks. If you like it, try these dress sewing patterns: Josephine, Leoncia, Ornella, and Hazel.
Historic references and imitations of the metal texture aim to show us strong, independent, and successful women who live the way they want.
Plain non-decorated numbers revolving around geometry and shape looked spectacular.
If you like this style, give the Ailyn dress pattern a try.
The festival saw numerous transparent, airy gowns. This style always looks gorgeous on a red carpet.
This year, many guests appeared in simple, even casual-looking outfits. For example, a Rory tank top paired with a Jane skirt, a pantsuit Janet + Jacqueline, etc.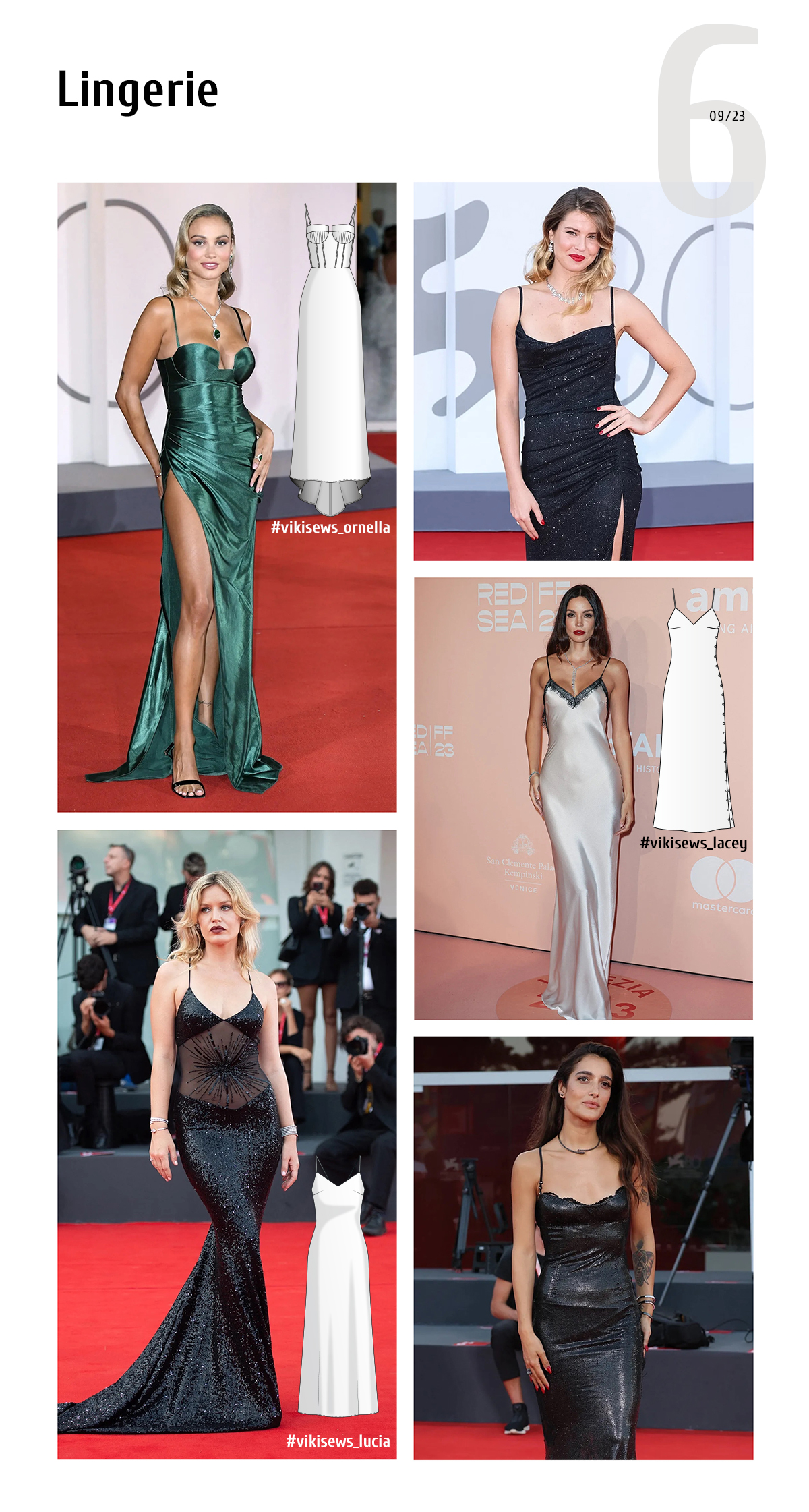 Garments that resemble lingerie are not a new trend, but this year we saw it with a twist, such as lace and glitter.
You can create such feminine outfits with Lacey, Lucia, Ornella, or Agnessa dress patterns.
Cutouts and asymmetry in the bust area always look gorgeous. Some guests of the festival sported gowns with cutouts on the red carpet.
Do you like it? Check out the Crystal, Edwina, Colette, and Erin dresses by Vikisews.
Red carpets are a great source of inspiration if you're planning to create an evening garment. Enjoy it with the Vikisews wedding and evening looks pattern collection.
Read more great events and red carpets here:
What's behind the weird fashion?
Stylists who dress your favorite celebrities