Where do people wear those exquisite (and sometimes weird) haute couture clothes? Celebrities love wearing them to the red carpets. And the Met Gala is the most prestigious among them all – it is an annual fundraising gala held for the benefit of the Metropolitan Museum of Art's Costume Institute in New York City.
We already know what the theme of Met Gala 2023 will be – this year's ball is dedicated to Karl Lagerfeld's legacy. And while we're waiting to see celebs wearing tweed and black suits and secretly hoping to see something more creative, let's take a look at the most memorable Met Gala looks. Keep scrolling!
The very first Met Gala was held in 1948. It had the same purpose as today, which is to raise money for the Costume Institute. But it gained real popularity in 1974 when organizers started inviting celebrities. Back then it also became a thematic – and the most anticipated – fashion event.
That year, the theme was "Romantic and Glamorous Hollywood." Cher's naked dress by Bob Mackie was a highlight of the night. It inspired numerous similar looks that can be seen even today. By the way, in 2015 Kim Kardashian almost repeated Cher's iconic look when she made an appearance in a Roberto Cavalli dress.
In 1996, Met Gala honored Christian Dior. Princess Diana attended the ball and made a splash in a gorgeous lingerie-inspired dress by John Galliano who was a designer at Dior. Her debut became memorable because it was also her last Met Gala appearance. The gown is now part of fashion history.
Here comes the look that started the Met performance trend: Amber Valetta in a wig, Galliano skirt, and Maggie Norris corset. She went all in and proved that the Met Gala allows for more creativity than conservative Oscars. And the outfit fit the theme perfectly – the gala was dedicated to the 18th-century ball.
The AngloMania ball was Alexander McQueen's time to shine. The genius designer created the most iconic looks for himself and Sarah Jessica Parker. Arguably, their appearance became the most unforgettable of all.
It's hard to say which Rihanna's Met Gala look was NOT iconic, but let us show you one of the less popular but no less creative appearances. In 2017, she was spot-on with her gown because that year's gala paid tribute to Rei Kawakubo. Rumor has it, it took a whole hour to put those shoes on.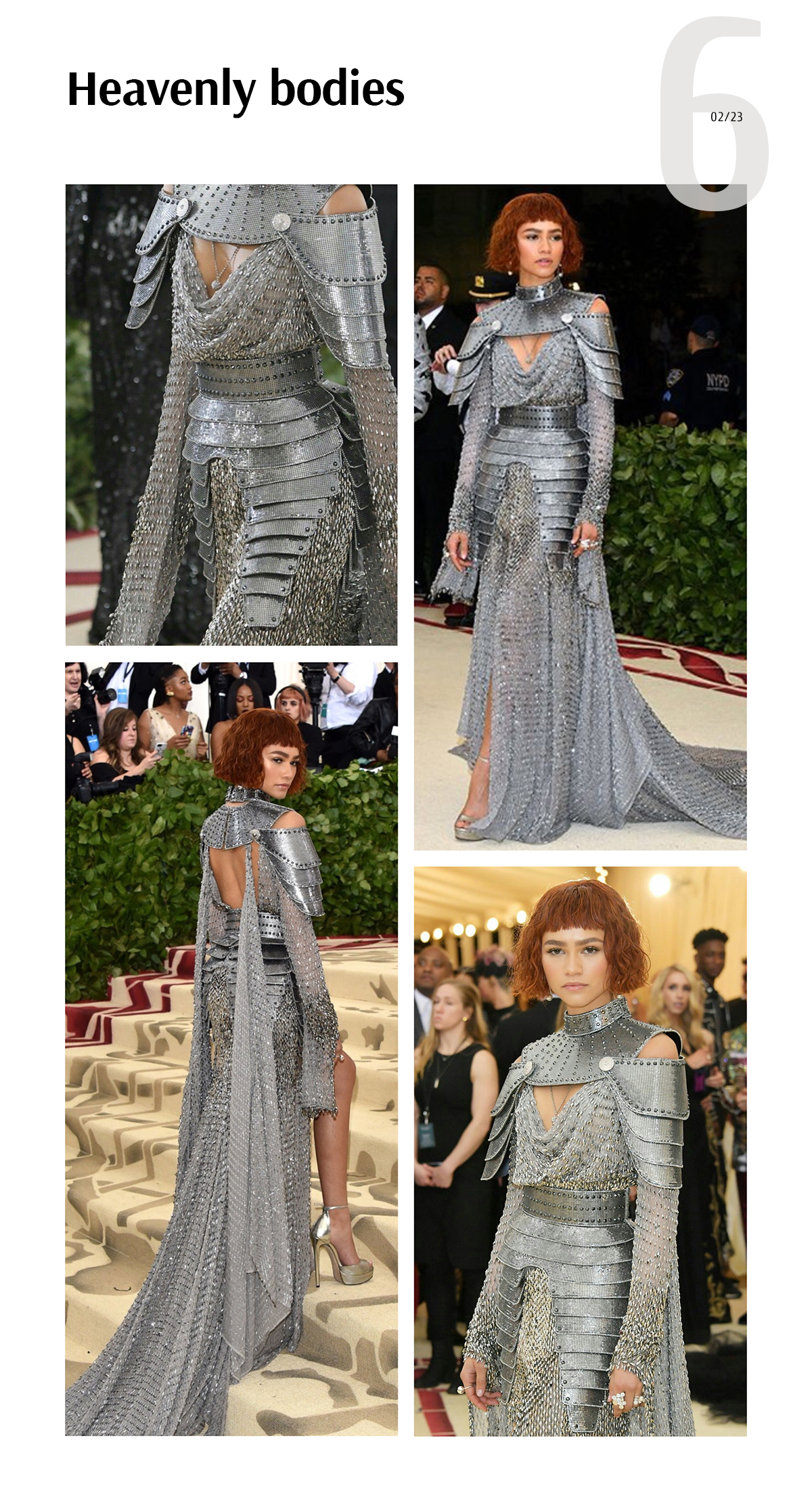 2018's gala was all about religion. Zendaya, whose Atelier Versace look was clearly inspired by Joan of Arc, stood out from numerous madonnas and nuns.
Perhaps even those who don't follow fashion events remember Kim Kardshian's dress at 2019's Met Ball. The "wet dress" by Thierry Mugler instantly made it to the most iconic Met looks list. However, the dress had a little secret: it was impossible to sit in it. So Kim had to spend the night standing up, with no possibility to excuse herself to the lady's room.
Last year's theme "Gilded Glamour" became a real challenge for stylists – many celebrities failed to understand the assignment. And yet we think that Gigi Hadid in Versace won the evening because her outfit was a great interpretation of the extravagant period in American fashion.
Needless to say, fashion is art, above all. It is often provocative and seeking answers. Haute couture doesn't aim to create wearable clothes. But if you strive to make wearable but gorgeous garments, you know where to find the patterns: here ;)
Read more posts about style and fashion:
Recreating fashion influencer looks
16 looks with Vikisews patterns