How to shop on Black Friday and not go overboard? We're here to share three useful shopping tips and quite a few links to awesome patterns! These tips are equal to any big Vikisews patterns sale. So, keep them in mind.
Black Friday is the day when you can update your wardrobe at a good price. Buy only the things you really, desperately need. Everyone will have their own shopping list, so dedicate some of your time to revising your wardrobe and finding out what needs to be replaced and what you just have to have.

Opt for quality wardrobe basics. These are usually pricey, so use the sale to save a buck and get some basic clothing items that won't go out of style the next season. Look for high-quality outerwear (or fabrics to sew it), shoes, handbags, and knits. For example:
Buy or sew a minimalist loose-fitting coat that is below-knee length. This coat will always be trendy and easy to pair with any clothes you have.
Check these coat patterns: Martina, Hayden, Villanelle.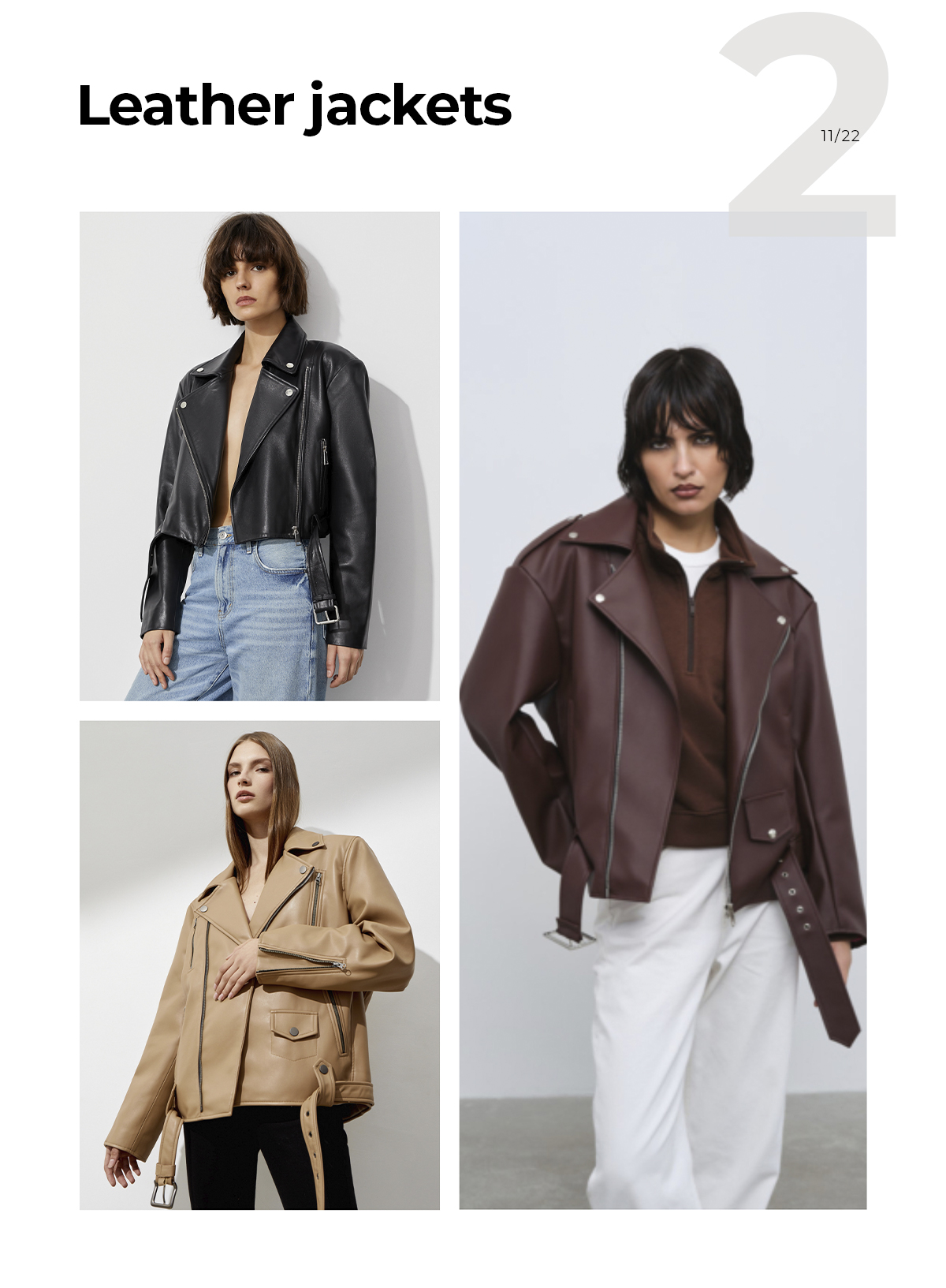 Today's oversized leather jackets are a trend, but this item will not go out of style. It shifts from basics to trends and back and is always a nice addition to any look. Try our Madison jacket pattern.
The drill for trenches is the same as for regular coats – buy a loose-fitting minimalist or complex looking one. The simpler the look, the longer it will stay relevant. But among all trench coats choose a long one – below-knee length, or even maxi or midaxi length.
Check these trench coat patterns: Peyton, Sybil, Gladys.
All the same for puffer and fur coats – choose loose-fitting items with no extra detail.
Check these puffer and fur coat patterns: Reggie, Faith, Nurit.
A jacket that fits you perfectly is always a good idea. Sale is the time to take a step forward and learn how to sew jackets. Or look for a specialty fabric worth paying extra for if you're already a pro at sewing.
Check all the diversity of blazer patterns in the "Blazers and vests" section.
Denim will be the hottest textile choice for the next few seasons, so look for jeans and skirts that will look trendy and will become your wardrobe's staple at the same time.
Check these patterns for denim: Britney pants, Vilora and Agnia skirts.
Sales is the right time to get a bargain on high-quality knits that won't stretch out or pill after the first wash. Sew hoodie & jogger sets, jumpers, cardigans, tops – anything your wardrobe is lacking.
Check all the patterns for knits in a special section "Patterns for knits".

When, if not during sales, can we try out the current trends? If you don't need any basic items, but instead you want to give some trends a try, Black Friday is the time to do that. Anything special to check out? Yes, search for trends not many know about yet. For example:
- Again, look at denim, but check out the "dirty"-looking, faded, or Y2K greenish denim. Also give patchwork items, denim tops and corsets, and complex-looking denim clothes a try.
- The other rising trend is silver footwear that will accent any outfit.
- Puffer footwear for winter, especially if it has cyberpunk or futuristic vibes.
- Cargo pants are the hottest trend right now, so feel free to sew yourself a pair of the Deryll trousers using denim, raincoat or metallic fabrics.
- Boho fur coats probably won't go on sale en masse, but if you find one in a vintage store – grab it. We're talking about coats made of real fur. But if you're not a fan of real fur, even if it's vintage, look for artificial fur that looks real – it has to be long and sleek.
- Motorcycle jackets will make a comeback next season. Sew one with faux leather and add some motorcycle decor. 
These are the shopping tips for Black Friday that will help you stay rational and save money. Have fun!
Read more posts about stylish outfits here:
Recreating fashion influencer looks